© Giulio Groebert
Caspar David Friedrich
in Saxony
250 years of Caspar David Friedrich in Saxony
Caspar David Friedrich (1774-1840) spent most of his life in Dresden. He travelled extensively in Saxony, preparing sketches and watercolours in his Dresden studio that became masterpieces. In total, he created 150 paintings. Always out and about on foot, he was a kind of early "slow traveller", with a keen eye for nature that his imagination translated into great works of art. Often misunderstood during his lifetime, Caspar David Friedrich is today regarded as the most important German painter of the Romantic period. His most famous painting is probably "Wanderer above the Sea of Fog" (Der Wanderer über dem Nebelmeer), which was inspired by the wildly romantic landscape of Saxon Switzerland. 2024 sees his 250th birthday which will be celebrated in style in Saxony.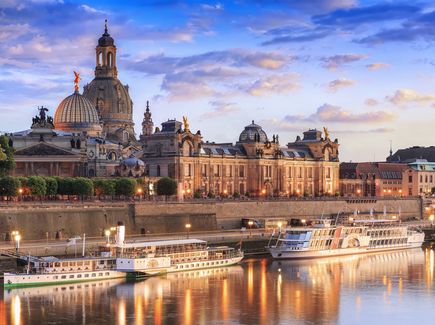 © Marcel Quietzsch
Dresden
Caspar David Friedrich's studio, which was located directly on the Elbe, has not survived. However, he was painted there at work by his friend and colleague Georg Friedrich Kersting in three variations. This depiction served as a model for the Caspar David Friedrich Monument by the artist Wolf-Eike Kuntsche from 1990, which is located on Brühl Terrace.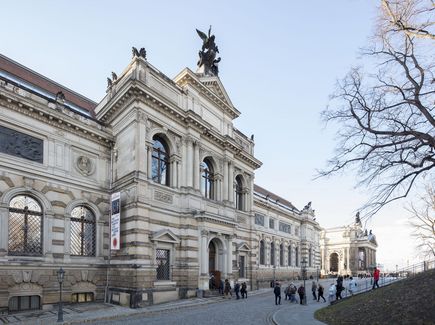 The Dresden State Art Collections own the largest collection of his works from all his creative phases. Within sight of the Friedrich monument, the New Masters Picture Gallery in the Albertinum building houses 14 Friedrich paintings while in the Kupferstich-Kabinett in Dresden's Royal Palace visitors can view as many as 70 drawings and a sketchbook.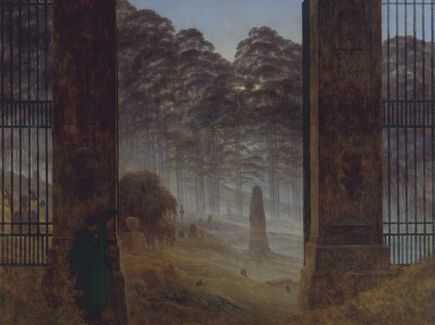 © Galerie Neue Meister, Staatliche Kunstsammlungen Dresden, Jürgen Karpinski
The painter's grave can be visited in Dresden's Trinitatis Cemetery. It was not until the late 1920s that the spot where he had been buried in May 1840 was rediscovered. A curiosity is the alternative spelling of his first name with "K" instead of "C".
Booking offer: German romanticism break in Dresden
© S. Rose
On his traces in Saxon Elbland
​​​​​​Framed by the picturesque backdrop of Meissen, Caspar David Friedrich painted the ruins of the Holy Cross Monastery. Dissolved after the Reformation, the building fell into disrepair and was used as a quarry. Today it houses the Hahnemann Centre, which is open to the public. The inventor of homeopathy, Samuel Hahnemann, a contemporary of Caspar David Friedrich, was born in Meissen as the son of a porcelain painter.
Meissen is located on three rivers, one of them being the Triebisch. At the other end of the Triebisch valley, near Nossen, a monastery ruin was transformed into a romantic park around 1800. The painting "Ruins at Dusk" (Ruinen in der Abenddämmerung), much more sombre than the real-life inspiration, was painted by Caspar David Friedrich 30 years after his visit to today's Altzella Monastery Park, based on his sketches.
On his traces in Saxon Switzerland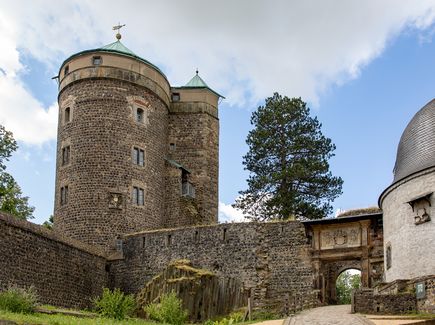 © TMGS / Manfred Daams
Saxon Switzerland
A good 12 miles east of Dresden, Caspar David Friedrich visited Stolpen Castle, hundreds of years old and towering above the town of the same name. For 49 years Countess Cosel was imprisoned here, the most famous mistress of the legendary Saxon ruler Augustus the Strong. In the summer of 1820 the painter drew the Cosel Tower, where Countess Cosel last lived.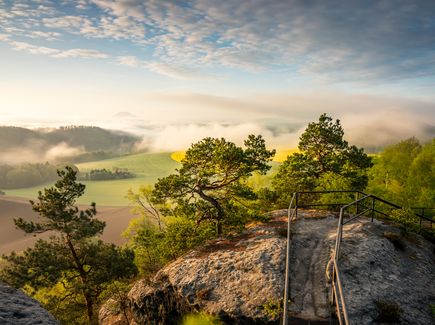 © Britta Prema Hirschburger
In 1813, at the time of the wars of liberation against the Napoleonic troops, Caspar David Friedrich withdrew to Saxon Switzerland, spending several months in the village of Krippen. During this time, he produced the "Krippen Sketchbook", with very detailed drawings. Along the 15-kilometre Caspar David Friedrich Hiking Trail around Krippen, ramblers can enjoy panels showcasing the painter's sketches.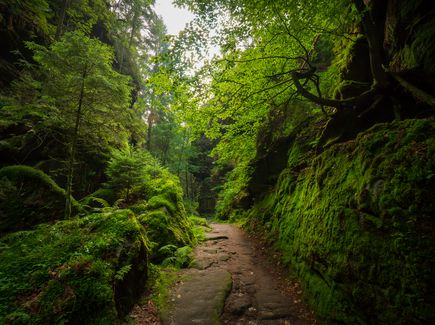 © Philipp Ziegler
One of his hikes also took him to the foot of the Kaiserkrone table mountain. He called the drawing he made there "Rocky Hilltop" (Felsige Kuppe). This is the very rock on which he later placed his famous "Wanderer above the Sea of Fog" painting. He created the oil painting "Uttewald Valley" (Uttewalder Grund) after his stay in a narrow gorge near Lohmen.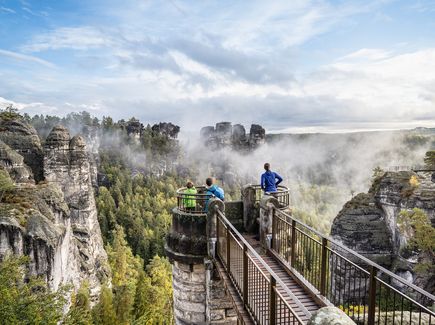 © TMGS / D. Stratmann
The 116-kilometre-long, very popular Painters' Way today connects many of the places and views that fascinated Caspar David Friedrich and other artists. These include Saxon Switzerland's most famous rock formation, known as Bastei, which he painted without the later Bastei Bridge. Unsurprisingly, the Painters' Way is one of Germany's most popular hiking trails.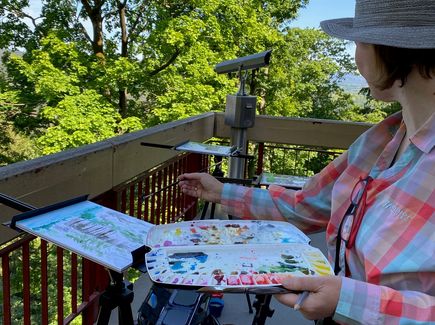 © TMGS / Ines Nebelung
Tip: Try a guided painting tour through the Elbe Sandstone Mountains with artists from the region to find you own artistic perspective and, just like the "slow traveller" Caspar David Friedrich, take your time to explore the region for a few days. Tours are offered, for example, by the Molière artdesign studio in Lohmen.
Booking offer: German romanticism break in Saxon Switzerland
© TMGS / Czech Vibes
On his traces in the Zittau Mountains and on Mount Oybin
Mount Oybin in the Zittau Mountains in south-eastern Upper Lusatia was particularly inspiring for Caspar David Friedrich. The watercolours and oil paintings he did here of the spectacular monastery ruins perched on top of the beehive-shaped mountain are wonderful examples of why he is considered the master of Romanticism. Other painters were also inspired by the unusual rock.
Caspar David Friedrich's best-known work from Oybin is "The Dreamer" (Der Träumer), created with oil on canvas. As in all his works, he used nature as a reflection of human sensibilities and as a symbol of the mystery of all life in this painting. Fun fact: Few artists are today liked as frequently on Instagram as the great Romantic painter, perhaps because his works strike a chord with people looking to take a step back from our hectic times.
Booking offer: German romanticism break in the Zittau Mountains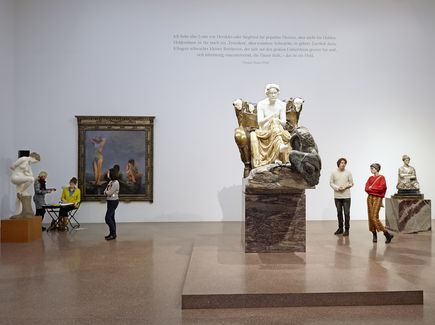 Art collections today
Caspar David Friedrich's paintings with motifs of Saxony are represented in art collections worldwide. In addition to Dresden, where the Saxon rulers collected art, there are, of course, also collections in Leipzig and Chemnitz. In these cities, it was the bourgeoisie that created important art collections.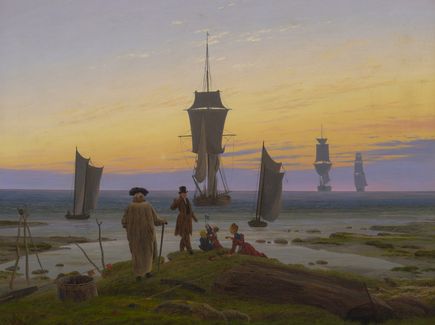 © Museum der bildenden Künste Leipzig
Leipzig
For a long time, Leipzig was the world's most important trading centre and hence, a very prosperous city. Merchants, bankers and industrialists created the foundation for the Museum of Fine Arts, which displays three works by Caspar David Friedrich, including the famous painting "Stages of Life" (Lebensstufen), which was painted in 1835, five years before his death.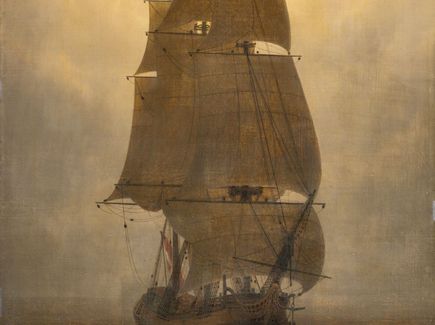 © Kunstsammlungen Chemnitz / Jürgen Seidel
Chemnitz
At Chemnitz Art Collections, visitors can see the "Sailing Ship" (Segelschiff), which the artist painted when he was about 40 years old, shortly before his marriage to Caroline Bommer, who was 19 years younger and with whom he had three children rather late in life . His grandson Harald, who was born in Dresden, was the last male descendant and a landscape painter himself. He was appointed professor of painting, an honour that was unfortunately denied to his grandfather.
This might also be of interest to you: